Black Friday Strategies That Work!
November 17 2020
Shifts in consumer behavior encourage eCommerce retailers to come up with new strategies, and this applies to Black Friday as well. How can retailers brace for a potential surge or dip during Black Friday? To help retailers prepare for Black Friday, this guide will provide effective strategies that will improve customer engagement, average order value, conversion rate, and much more. Without further ado, let's dig in.
Test Your Website
Expect the unexpected when it comes to business. While it may be an unachievable problem for some to deal with their website crashing due to a surge in traffic, you will need to prepare for the worst on Black Friday. To make this possible, talk to your web hosting provider to discuss traffic limitations.
While numerous servers are more than capable of handling a surge in traffic without requiring an upgrade, it would still be wise to analyze the data from yesteryears to prepare yourself accordingly. If an upgrade is in order, then determine how long it will take before it is up and running. There is no point of an upgrade if it is not there when you need it.
To check your website's speed, you can use PageSpeed Insights all you need to do is to enter your website's URL, and you will find out exactly how well it is performing.
Send Personalized Emails with Black Friday Advertising
For Black Friday, you will need to set up email marketing campaigns that specifically target people who visited your store. Use the information you have collected regarding your visitors to add recommendations to relevant products for greater engagement, leading to a potential purchase.
A general newsletter has zero personalized elements, which does not do any favors to conversion rates. On the flip side, personalized emails offer an average of 20% in conversion rates, all the while encouraging your visitors to return to your website for more purchases.
Ensure Proper Display of Black Friday Deals and Discounts
During Black Friday, customers expect extraordinary deals and discounts, so why not meet and exceed their expectations?
Your website will need to offer discounted items, and they should be pushed to the front for maximum visibility. But what is the best way to display them in the first place?
To get the best possible results for Black Friday, ensure your website's theme perfectly illustrates the discounts you are offering. Either show a percentage or cross-out full prices to ensure visitors know what kind of savings they can look forward to—as simple as it sounds, focusing on discounts can motivate visitors that are unsure to make purchases. For example, Platinum Design Services has decided to give discounts on some of their services and have added banners on their website.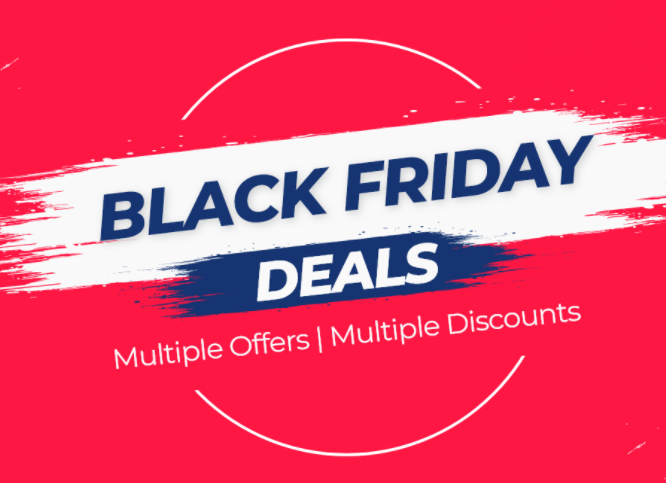 Offer Recommendations to Returning Customers
If you have played your cards right, some of your Black Friday customers could become returning customers during events like Christmas or New Year. This is an excellent opportunity to welcome your guests with relevant product suggestions based on their interests. It may seem overwhelming, but this step is vital for the success of your product recommendation strategy. The good news is this entire process can be automated, making it easier for you to impress your customers and increasing their loyalty toward your brand.
Ensure Your Website is Mobile Friendly
Considering the number of smartphone users are more significant than other devices, you will need to make sure your website is mobile-friendly. Black Friday statistics have shown that 'on the go' browsing and purchases are the new norm.
Enough emphasis cannot be placed on the fact you will need to meet all of Google's requirements, especially during Black Friday. If your website is not mobile-friendly, Google will penalize it. Being at the top of search results should be your goal, and the last thing you need is for your website to be pushed down during the sales season.
Your Returns Policy has to be Clear
If you have a poor returns policy, you could do more harm than good. Potential customers will not feel comfortable making purchases from you if your returns policy is not clear.
On the flip side, if your returns policy is excellent, highlight it left, right, and center. During events like Black Friday, people make purchases hurriedly, meaning they do not have enough time to do their homework.
Your job is to make them feel comfortable making a quick decision – and your returns policy will have a massive role to play in this regard. If your returns policy is transparent and your customers clearly understand what they are getting themselves into, they will do business with you.
For your Black Friday marketing strategy, pay close attention to the language you use for your returns policy, and avoid jargon wherever possible.
There are countless other Black Friday strategies that you can incorporate into your plan this year, but the ones mentioned above will get you started if you did not know where to begin.